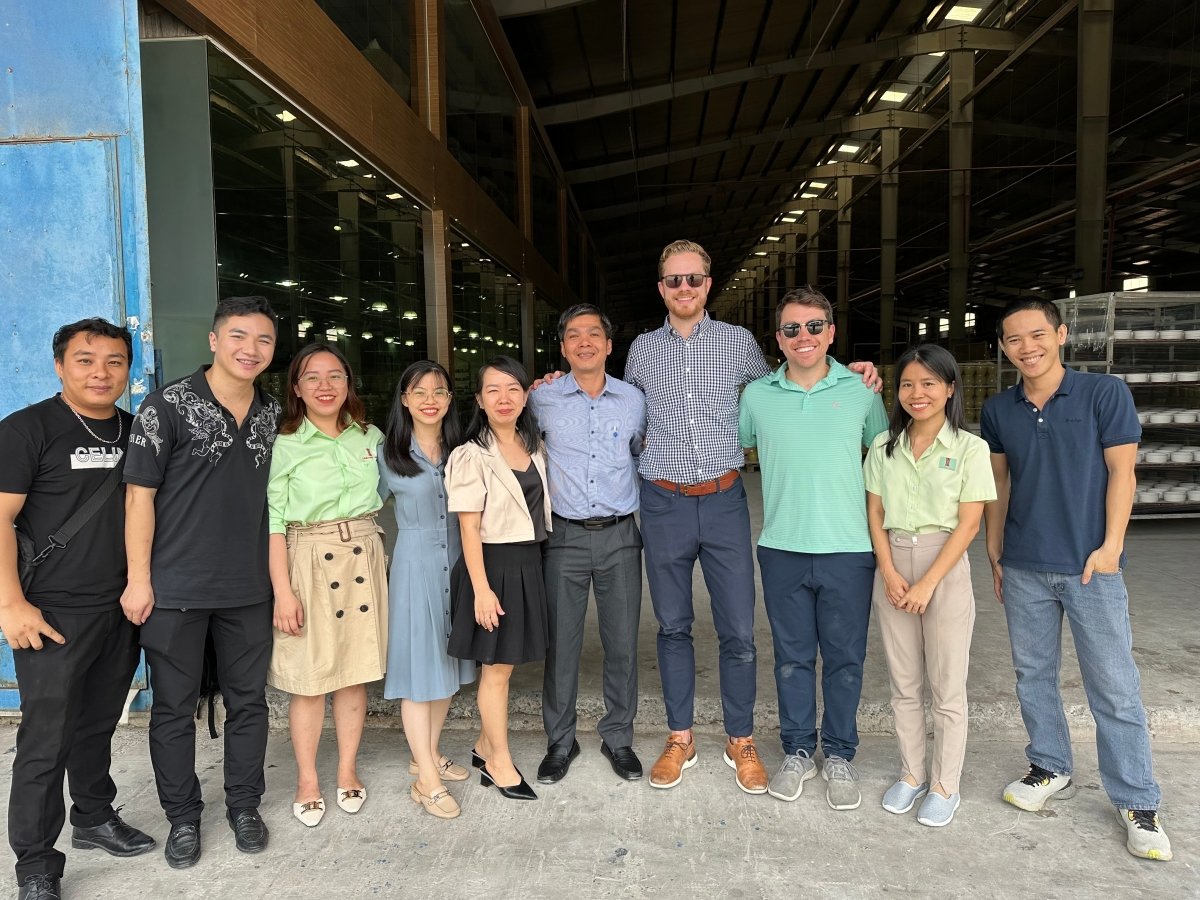 July 2023 Newsletter- Vietnam Recap, Product Name Unveiling, and What's Coming Soon
Outmore Living Newsletter - July 2023
July 2023
Mot Hai Ba Dzo!
1, 2, 3, Cheers! This custom, heard at social gatherings all throughout Vietnam is the unofficial slogan from our trip.
Our Vietnam Trip is in the books and we are here to recap all that we accomplished and experienced there. Also you will find an update on naming our product and a teaser of big events coming soon.
Get ready for a newsletter full of pictures!
Progress Made in Vietnam
1) We saw firsthand how premium teak furniture is made in Vietnam.


Here we are touring where all of the FSC Certified Teak is stored and dried. This wood is the highest quality in the world. It is imported from Brazil is grown and harvested in a responsibly sustainable way.
This furniture manufacturer builds
and ships premium teak products all around the world.
We met many great people and future partners. (P.S. Kevin has never felt so tall)
2) We improved our solution's user experience with rapid prototyping and sampling

Being able to deeply explain the mechanics
of heating inside the cushion was invaluable. We made great progress
towards the unbeatable experience we aim to deliver.
Here we can see the importance of moving from CAD files to the real world,
where small tweaks needed become readily apparent.
3) We explored the possibilities with cutting-edge electronics manufacturers.

Here, we learned of their injection molding process
and the quality of their stainless steel molds.
This manufacturer has multiple lines of
extensive testing, QA, and evaluation in a clean room.
Things we experienced and learned (sometimes the hard way) in Vietnam.




Ho Chi Minh City, also known as Saigon, is a one-of-a-kind city.
An intersection of east and west in many ways.
Business lunches in the countryside where the factories are located can get um... interesting.
But the roads are absolutely chaos. Signs are suggestions, Honking is mandatory, and hesitation is punished.
Founder Perspectives - Naming Our First Product:

The name 'Solerno' is a harmonious blend of 'Sol', signifying the life-giving sun, and 'Inferno', symbolizing the captivating dance of a warm flame. 
This collection is the embodiment of the warmth we wish to infuse into your outdoor spaces and the passion that fuels our creativity at Outmore Living.
The name also pays tribute to the tranquil beauty of Salerno, a charming city nestled in the coastal stretch of Italy. Salerno is renowned for its enchanting sunsets, where the sun paints the sky with hues of red and orange before dipping into the horizon. It's a city where life thrives outdoors - in the narrow streets bustling with life, the waterfront promenades, and the comfort of the homes that look out onto the stunning Tyrrhenian Sea.

We hope this collection inspires a sense of warmth and creativity in your living spaces, embodying the harmony of nature and comfort. 
Getting Excited For Fall
2023 has already been a momentous year for Outmore, but the best is yet to come. 

To Recap ways you can 'be outmore' right now: 


- Signup and read our monthly newsletters
- Follow and interact with us on social
- Join our waitlist to secure yourself earliest shipment and help us demand plan
 Coming Soon

- Officially reserve your Solerno furniture with a deposit (Early August)
- View lifestyle & product photos and videos of our final product (Early September)
- Actually purchase your heated furniture (Early October)
- Receive delivery of your heated furniture and enjoy (November)
Until next time,

be outmore. 

Alex